Top 10 Sunflower Fields in Texas: Explore the Blossoming (Updated 2023)
Texas is home to spectacular sunflower fields that come to life during the warm summer months, providing picturesque landscapes and unforgettable moments.
There are several sunflower farms worth visiting across the Lone Star State, including some near Dallas, Houston, Austin, and the Texas Hill Country.
The top 10 sunflower fields in Texas are:
Dewberry Farm 
P-6 Farms 
Froberg's Farm 
Wildseed Farms 
Robinson Family Farm 
Lone Star Family Farm 
Mainstay Farm 
Maxwell's Pumpkin Farm 
Bloomers Garden & Flower Farm 
Yesterland Farm
In this article, you'll discover the top 10 sunflower fields in Texas and what makes each of them unique.
Key Takeaways
Discover Texas's most beautiful sunflower fields to enjoy during the summer
Explore diverse destinations, from Dewberry Farm to Yesterland Farm
Create unforgettable memories among the brilliant blooms of sunflower fields
Top 10 Sunflower Fields in Texas
1. Dewberry Farm
Dewberry Farm is about 45 minutes west of Houston, making it a perfect trip for anyone looking to escape the city for a day.
In addition to sunflower picking, Dewberry Farm offers various amenities such as wagon rides, a farmers' market, and a country store.
The weather at Dewberry Farm is typically sunny and warm in the summer, reaching daytime highs of over 90ºF (32ºC), so be sure to bring sunscreen, hats, and water to stay comfortable during your visit.
If you prefer cooler weather, plan your trip during the early morning or late afternoon.
2. P-6 Farms
Located just 1 hour north of Houston, in Montgomery, Texas, P-6 Farms is family-friendly and welcoming, making it a perfect destination for a weekend outing.
At P-6, you'll find more than just sunflowers throughout the year. For example, during the Blooms and Berries Festival, visitors come to pick sunflowers and blackberries.
In addition to the sunflower and blackberry picking, the farm provides various amenities for guests.
You can grab a bite to eat at the concession stand or attend one of their seasonal events, which include a pumpkin patch, corn maze, and holiday festivities.
Summer weather at the P-6 farm is hot, with average temperatures exceeding 90ºF (32ºC), so make sure to dress appropriately.
3. Froberg's Farm
Froberg's Farm, located 30 miles (48 km) south of Houston in Alvin, Texas, delivers a delightful sunflower-picking experience for people of all ages.
Forberg's spans over 5 acres and has a popular sunflower trail open daily from 9 a.m. to 5 p.m.
It costs $2 for entry, and you can feel free to pick your favorite blooms for just $1 each.
Aside from sunflowers, Froberg's Farm also offers other pick-your-own fruits, such as strawberries, blackberries, and cherry tomatoes.
To keep up with the farm's latest produce offerings and events, it's a good idea to call ahead before your visit.
Froberg's Farm is typically warm and sunny in the summer, with average temperatures around 90ºF (32ºC) during the day.
The atmosphere is cheerful and welcoming, making it a great destination for families, friends, or even solo travelers.
4. Wildseed Farms
Wildseed Farms is a must-visit destination for sunflower lovers in Texas.
Located in Fredericksburg, 90 mins west of Austin, this beautiful farm covers a large area and offers an abundance of sunflower fields to explore.
Open year-round, it's the perfect place to enjoy sunflowers in the Lone Star State.
At Wildseed Farms, you'll find multiple walking trails open from 9:30 a.m. to 5:30 p.m. daily.
There is no admission fee, making it a great family-friendly outing.
As the nation's largest wildflower farm, Wildseed Farms also boasts extensive wildflower fields where you can purchase seeds to bring home to your own garden.
When planning your visit, remember that the weather in this part of Texas can be very hot during the summer, hitting temperatures of 95ºF (35ºC).
Just be sure to bring your sun protection and stay hydrated while wandering through the fields.
5. Robinson Family Farm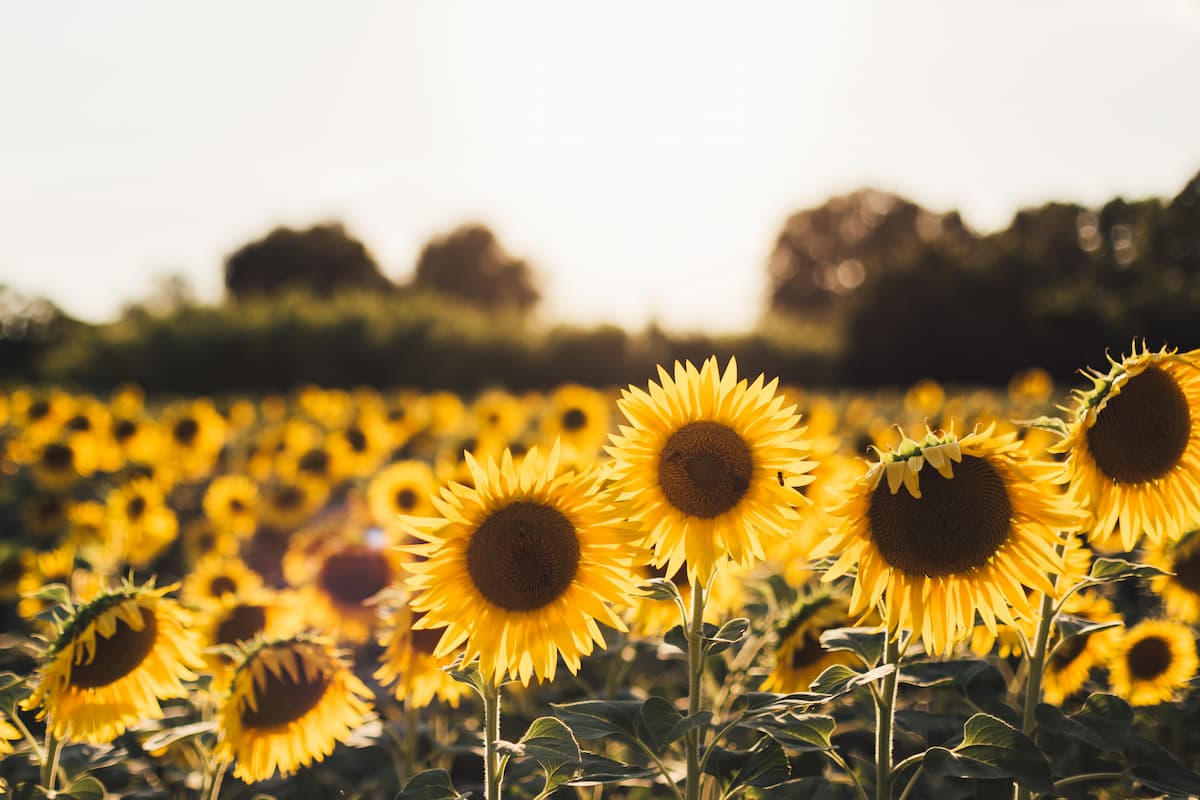 At the Robinson Family Farm, you'll experience a beautiful and picturesque sunflower field in Temple, Texas, just 75 miles (120 km) northeast of Austin.
With its tranquil atmosphere and wide-open spaces, this farm offers a serene escape with rows upon rows of colorful sunflowers.
While occasionally closed in the off-season, you can always check out the farm's Facebook page for their opening hours, special events, and admission costs.
When visiting the farm, you can expect hot and sunny Texas weather, with temperatures around 95ºF (35ºC) in the summer.
6. Lone Star Family Farm
Located in Stephenville, Texas, Lone Star Family Farm offers acres of vibrant sunflowers.
The farm is just 90 mins west of Fort Worth and is open seasonally, so be sure to check their Facebook page for the latest updates and schedules.
The Lone Star Family Farm also boasts more than just beautiful sunflowers.
There, you'll find various attractions like a corn maze, pumpkins, hayrides, and a corn cannon, delivering a genuine Texan experience surrounded by the countryside's natural beauty.
7. Mainstay Farm
Mainstay Farm is just a 25-minute drive south of Dallas/Fort Worth in Cleburne, Texas.
This 70-acre farm was once a historic dairy farm that has been transformed into a family-friendly destination.
Often referred to as the "Biggest Backyard in Texas," the park offers over 30 unique attractions, like hill slides, hay rides, face painting, and pedal cars.
While Mainstay is generally closed during the summer, its fall, winter, and spring festivities are a popular draw.
The weather during these months is generally mild, with temperatures ranging from 50°F to 80°F (10°C to 26°C).
8. Maxwell's Pumpkin Farm
You'll find more than pumpkins at Maxwell's Pumpkin Farm in Amarillo, Texas.
During the fall season, the farm opens its beautiful sunflower fields to the public, where you can enjoy the still-warm Texas weather.
Autumn temperatures range from 82ºF (28ºC) in September to 60ºF (15ºC) by November.
Besides the sunflower fields, Maxwell's Pumpkin Farm offers a fantastic selection of family attractions like the Giant Maze, Bunnyville, and seasonal photo ops.
9. Bloomers Garden & Flower Farm
Nestled just north of Dallas, the Bloomers Garden & Flower Farm in Sadler, Texas, possesses one of the most picturesque sunflower fields in the region.
In addition to sunflower picking, Bloomers Garden & Flower Farm also has berries and other produce for the picking.
After visiting the fields, head to the farm's cafe to enjoy a tasty treat or a refreshing drink.
The sunflowers typically bloom around early to mid-June, so expect the weather to be hot and sunny, with the potential for temperatures to hit 91ºF (33ºF).
10. Yesterland Farm
At Yesterland Farm, you can take a nostalgic step back in time.
Located in Canton, Texas, just one hour east of Dallas, this charming farm offers old-fashioned fun for everyone.
You will be delighted by vintage roller coasters and train rides across the property.
Get up close and personal with farm animals, such as ponies and various petting zoo creatures, or catch live duck and pig races – a truly Texas experience!
The farm is open seasonally, so check their website before heading out there.