Why Are Hotels In Boston So Expensive? 
Boston is a fun and interesting city with history, beautiful architecture, and countless attractions.
From museums and art galleries to shops and restaurants to numerous sporting events, Boston is a well-rounded and exciting vacation destination.
That said, travelers are often surprised at how pricey hotels in Boston can be.
Boston hotels are expensive because of high demand, land and real estate constraints, and taxes and fees. The city's history, culture, and growing popularity as a tourist destination increase the demand for accommodations year-round – leading to higher prices than hotels in other major cities.
The following article discusses the main factors influencing hotel prices in Boston, including demand, limited property development, and additional fees.
Key Takeaways
High demand, tourist attractions, and various hotel options increase prices.
Land and real estate constraints, taxes, and fees influence the cost of accommodations.
Knowing the factors behind the pricey hotels can help travelers find better deals and value for their stay in Boston.
Why Are Hotels in Boston So Expensive?
1. High Demand Factors
Boston hotels can be expensive, with several factors contributing to high demand, including tourist attractions and popular events, prestigious universities, luxurious amenities, and excellent public transportation.
Tourist Attractions
One of the main reasons hotels in Boston can be expensive is the city's plethora of tourist attractions.
Boston is rich in history and culture, offering a variety of sights that draw visitors from all over the world.
For instance, the 2.5-mile (4 km) long Freedom Trail takes visitors through the city, visiting 16 historical sites, including the Massachusetts State House, Paul Revere's House, and the Old North Church.
Boston also boasts a vibrant arts and entertainment scene and is home to numerous theaters, museums, and galleries.
Because Boston is the home of these attractions and more, the demand for accommodations is consistently high, leading to increased hotel prices.
Holidays and Festivities
Boston is a city that loves to celebrate.
During holidays and special events, the demand for hotel rooms increases, leading to higher prices.
One of the most popular events in April is the Boston Marathon.
This world-renowned race attracts thousands of runners and spectators, causing hotels to fill up quickly.
In March, St. Patrick's Day draws many people into Boston.
The city is home to a large Irish-American population and proudly celebrates its heritage with parades, live music, and street parties.
Summer months also bring an influx of tourists wanting to explore Boston's historic sites and beautiful waterfront.
LGBT American Pride Month events in June and the Fourth of July are particularly busy, with nearby hotels generally seeing increased demand and higher rates.
Boston also hosts several annual festivals that add to the demand for accommodations.
The Boston Film Festival in September and the Head of the Charles Regatta in October tend to draw large crowds and drive up hotel prices.
Conventions, Concerts, and Sporting Events
Boston has numerous conventions, concerts, and sporting events throughout the year, attracting visitors and increasing the demand for hotel rooms.
For example, popular events like PAX East and the Boston Calling Music Festival can cause a surge in hotel bookings, leading to higher prices.
When major events like conventions are scheduled in the city, thousands of attendees and exhibitors flock to Boston.
Similarly, high-profile concerts and sporting events can attract fans from all over, further straining room availability.
Universities and Other Post-Secondary Institutions
In addition to its historical landmarks, Boston is known for its world-class educational institutions, such as Harvard University and the Massachusetts Institute of Technology (MIT).
These esteemed schools attract visiting students, professors, friends, and family members, further contributing to the demand for hotel accommodations.
Moreover, college tours, graduation ceremonies, move-in days, school breaks, and other university-related events can cause an influx of visitors, driving up costs.
2. Land and Real Estate Constraints
Boston is a historical city with a limited amount of land to expand or develop.
Its compactness can lead to high demand for accommodations, especially during peak tourist seasons, and the lack of space drives up real estate prices and makes building new hotels nearly impossible.
Downtown Boston, in particular, has a scarcity of land for development, and the city's other neighborhoods, including the North End, are tightly packed and highly sought after.
As a result, existing hotels have the advantage and can set prices as they see fit.
Additionally, the city's historic preservation laws and zoning regulations limit new construction.
In Boston, acquiring land and building hotels can be expensive, leading to higher operational costs.
When new hotels are actually built, these costs are passed onto consumers through higher room rates.
3. Taxes and Fees
Taxes and fees can significantly increase the cost of a hotel room in Boston.
The state of Massachusetts imposes a 5.7% room tax, while the city of Boston adds a 4% local option tax and another 2.75% tax, which goes towards Convention Center funding.
These tax rates add nearly 15% to the listed cost of a hotel room, contributing to the high cost of accommodations in Boston.
What Are Hotels Like in Boston?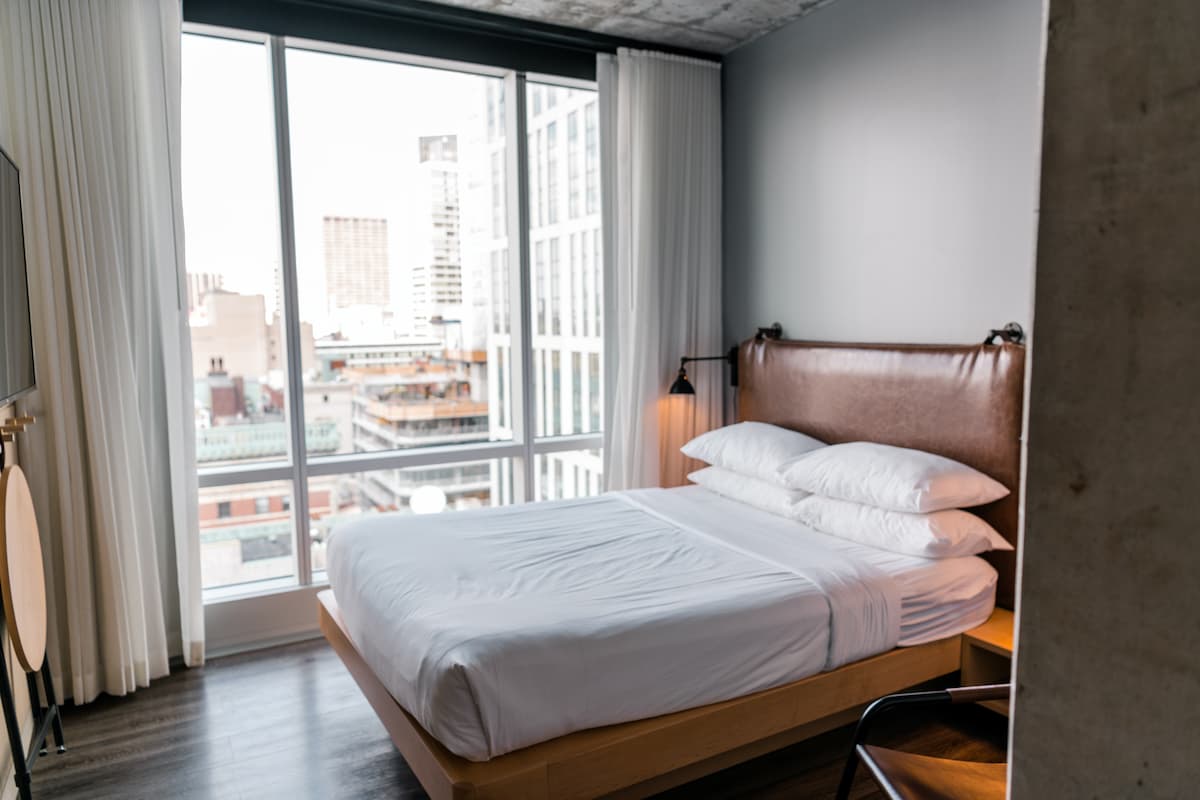 Boston offers a variety of hotel options for travelers, catering to different preferences and budgets.
Boston's luxury hotels provide top-notch services and amenities but come with a higher price tag.
These high-end accommodations can be found in popular areas like Downtown or Back Bay.
Mid-range hotels balance comfort and affordability and can be found throughout the city.
Their price range varies depending on the location and the time of the year; however, they're usually around $250/night.
Budget hotels and hostels cater to travelers looking for inexpensive accommodations.
While these options are more affordable, they provide limited amenities and services compared to luxury and mid-range hotels.
Additionally, they might be located a bit farther away from popular attractions or public transportation.
Vacation rentals or Airbnb are also becoming increasingly popular among visitors to Boston.
These can provide a more cost-effective option, particularly for longer stays, as they usually offer better deals and self-catering facilities.