The 12 Warmest Beaches In Florida In March (Updated 2023)
Florida is known for its sandy shores, abundant sunshine, and subtropical climate, attracting millions of visitors annually.
Many beaches offer warm temperatures in March, making them ideal for swimming, sunbathing, and water sports.
The 12 warmest beaches in Florida in March are:
Anna Maria Island
West Palm Beach
Sanibel Island
Miami Beach
Naples Beach
Siesta Key Beach
Clearwater Beach
South Beach
Daytona Beach
Panama City Beach
Cocoa Beach
Pensacola Beach.
In this article, we'll highlight the 12 warmest beaches in Florida, including where they're located, the average temperature in March, and what you can expect at each destination.
Key Takeaways
Florida offers a variety of warm beaches in March, perfect for sunbathing, swimming, and water sports.
The state boasts numerous picturesque beaches, including popular destinations like Panama City, West Palm, and Miami Beaches.
Warm water and sunny weather make Florida's beaches ideal for a comfortable and memorable spring vacation.
1. Anna Maria Island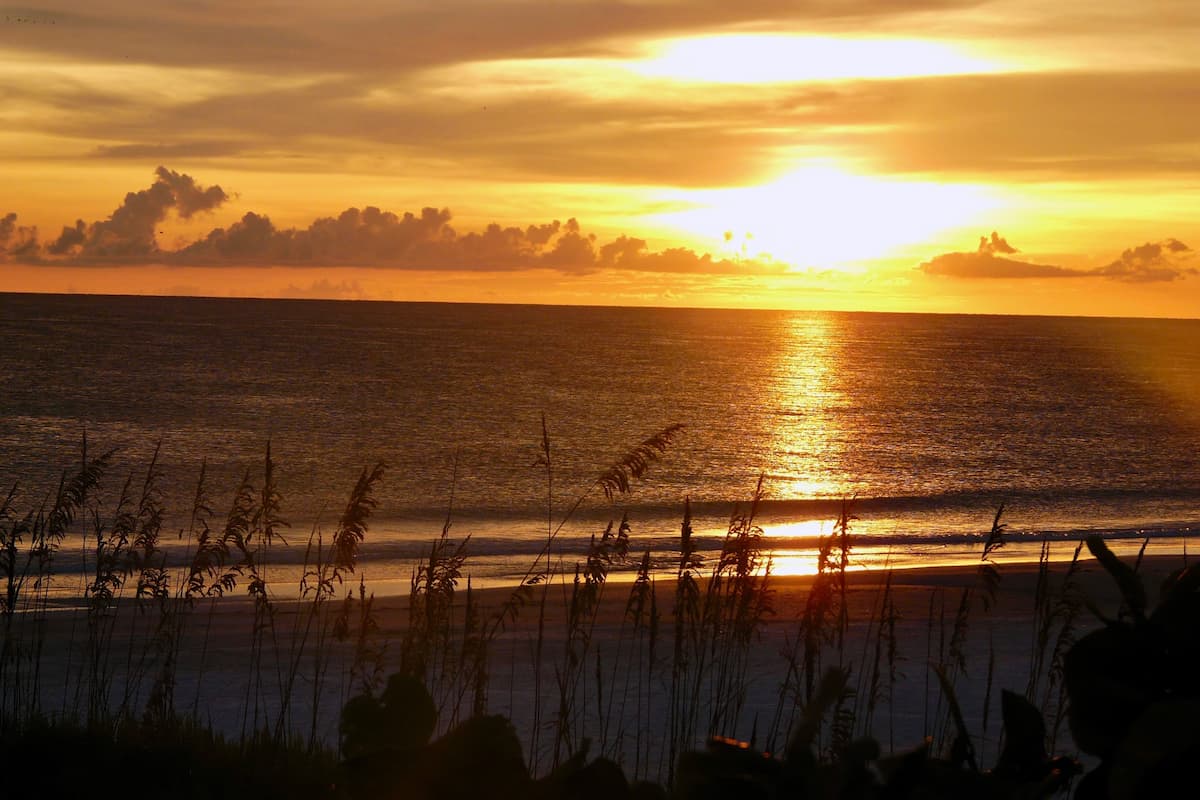 Anna Maria Island is a delightful barrier island resort area on Florida's Gulf Coast that offers a glimpse of "Old Florida," where small homes and low-key resorts back the seemingly endless beaches.
Anna Maria Island's beaches are covered by powdery white sand due to its composition of fine quartz crystals, which keep the sand cool to the touch.
The island begins to heat up in March, with temperatures often reaching the 80s (26-31°C).
The Gulf of Mexico provides just enough waves for visitors to enjoy fun activities such as boogie boarding, and the relaxed, laid-back atmosphere sets it apart from busier Florida tourist destinations.
On Anna Maria Island, you can experience various outdoor activities like boat tours, fishing charters, and dolphin & whale watching without the crowds common in other Florida cities.
2. West Palm Beach
Located on the east coast of Florida, West Palm Beach mixes a pristine coastline with a cosmopolitan atmosphere.
As you arrive in West Palm Beach, you can expect average temperatures to hover around 81°F (27°C), making it one of the warmest Florida beach areas in March.
West Palm Beach is home to several spectacular beaches, such as Palm Beach, Ocean Reef Park, and Juno Beach, to name just a few.
You'll enjoy powdery white sands, crystal-clear waters, and an array of amenities, including restrooms, picnic areas, and nearby parking for your convenience.
Stroll down Worth Avenue, known as the "Rodeo Drive of the East Coast," with its high-end boutiques and palm tree-lined streets.
You might also consider visiting the nearby museums, galleries, and world-class dining establishments that the city has to offer.
3. Sanibel Island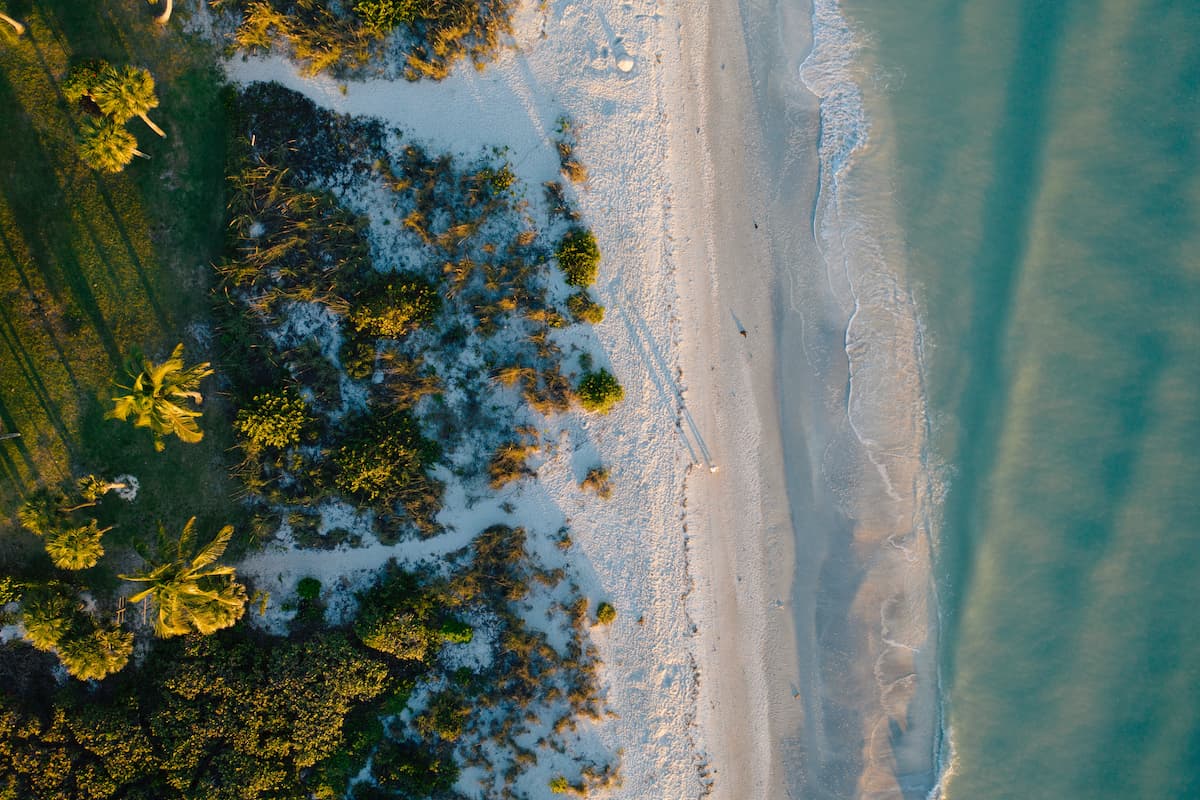 Sanibel Island, located off the southwest coast of Florida, boasts pristine beaches and abundant wildlife.
You can expect average daily high temperatures in March to be around 81°F (27°C), making swimming and beach activities comfortable.
In addition to spending time at the beach, you can take advantage of the island's many amenities, including an extensive range of dining options and shopping venues.
The overall vibe on Sanibel Island in March is laid-back and family-friendly. With fewer tourists than in the winter months, you can enjoy the island's natural beauty without the crowds.
4. Miami Beach
Miami Beach is a popular South Florida island city linked to mainland Miami by bridges.
In this picturesque coastal town, you'll find warm, sandy beaches, luxurious waterfront accommodations, and trendy bars and restaurants.
During March, expect daytime temperatures ranging from the high 70s to low 80s Fahrenheit (25-28°C).
The warm Atlantic Ocean along Miami Beach offers tons of water sports, such as swimming, snorkeling, or paddleboarding, or you can simply relax on a beach chair while sipping a refreshing cocktail.
Miami Beach exudes sophistication and glamour, thanks to its iconic Art Deco architecture and high-end establishments.
Miami Beach in March delivers a warm, sunny escape from colder climates full of world-class amenities and entertainment.
5. Naples Beach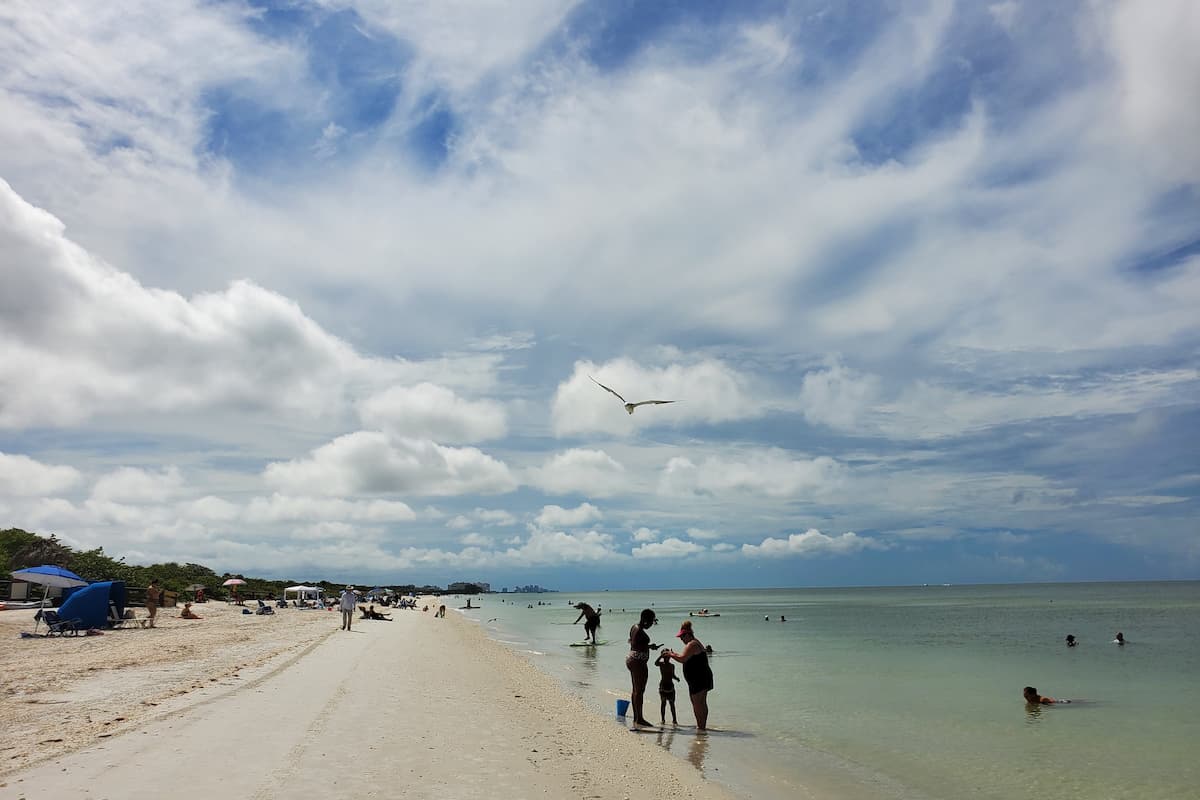 Naples Beach is a beautiful area on the Gulf Coast of Florida with warm weather and clear, sunny skies.
The average temperature is around 80°F (26°C), making it a comfortable and inviting spot to spend a few days soaking up the sun.
The soft, white sandy shores span miles along the coast, providing ample space to relax and unwind.
You'll find a variety of amenities nearby, such as beach chairs and umbrellas for rent and restaurants and bars within walking distance.
As you explore the beach, you may come across tidal pools teeming with fish and other marine life, making it an excellent spot for nature enthusiasts or those looking to experience some of Florida's diverse wildlife.
The Gulf Coast waters are generally warm enough for swimming, though the temperature can vary depending on ocean currents, so you may want to test the water before diving in.
6. Siesta Key Beach
Siesta Key is a beautiful barrier island on the Gulf Coast of Florida, offering several stunning beaches, each with unique appeal.
When visiting Siesta Key in March, you can expect pleasant weather around 80°F (26°C), perfect for sunbathing, swimming, or simply soaking in the scenic surroundings.
Siesta Key Beach is known for its powdery white sand and turquoise waters and for providing guests with various amenities, including picnic areas, playgrounds, and ample parking spaces.
Siesta Key is home to many charming shops, restaurants, and cafes, which enhance any beach getaway.
7. Clearwater Beach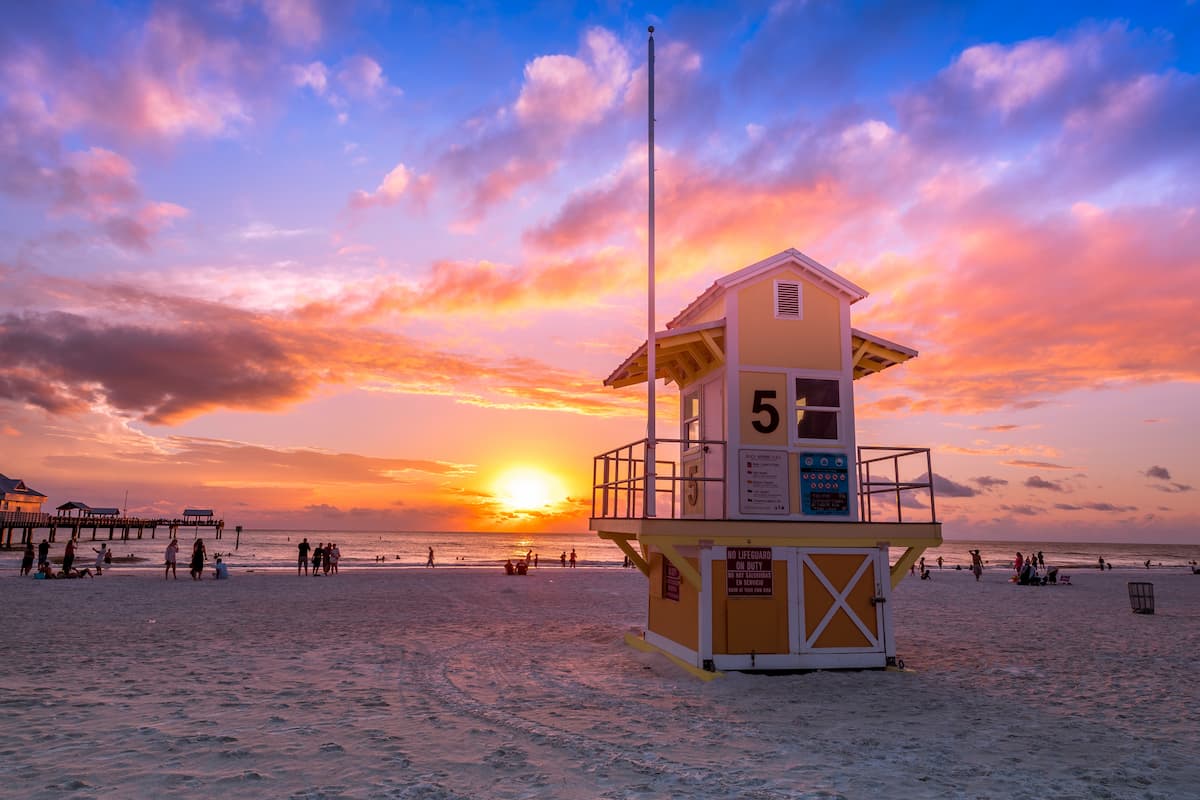 Clearwater Beach is a prime location on Florida's Gulf Coast, just 30 miles (48 km) from Tampa.
This beautiful beach offers soft white sand and clear, crystal waters.
During March, the average temperature is around 77°F (25°C), with less than five days of expected rainfall.
Visitors appreciate Clearwater's family-friendly atmosphere, full of beachfront restaurants, shops, and recreational facilities catering to relaxation and fun.
8. South Beach
South Beach, located in the heart of Miami, is an ideal destination for sun-seekers in March.
With its white-sand beaches and vibrant atmosphere, you can enjoy an average temperature of around 77°F (25°C) in March.
The beach has plenty of amenities, including lounge chairs, umbrellas, and cabanas for rent, as well as showers and restrooms available for your convenience.
South Beach is well-known for its Art Deco architecture, designer boutiques, and energetic nightlife.
The beach also hosts numerous events and festivals throughout the year, so be sure to keep an eye out for any happenings during your visit.
9. Daytona Beach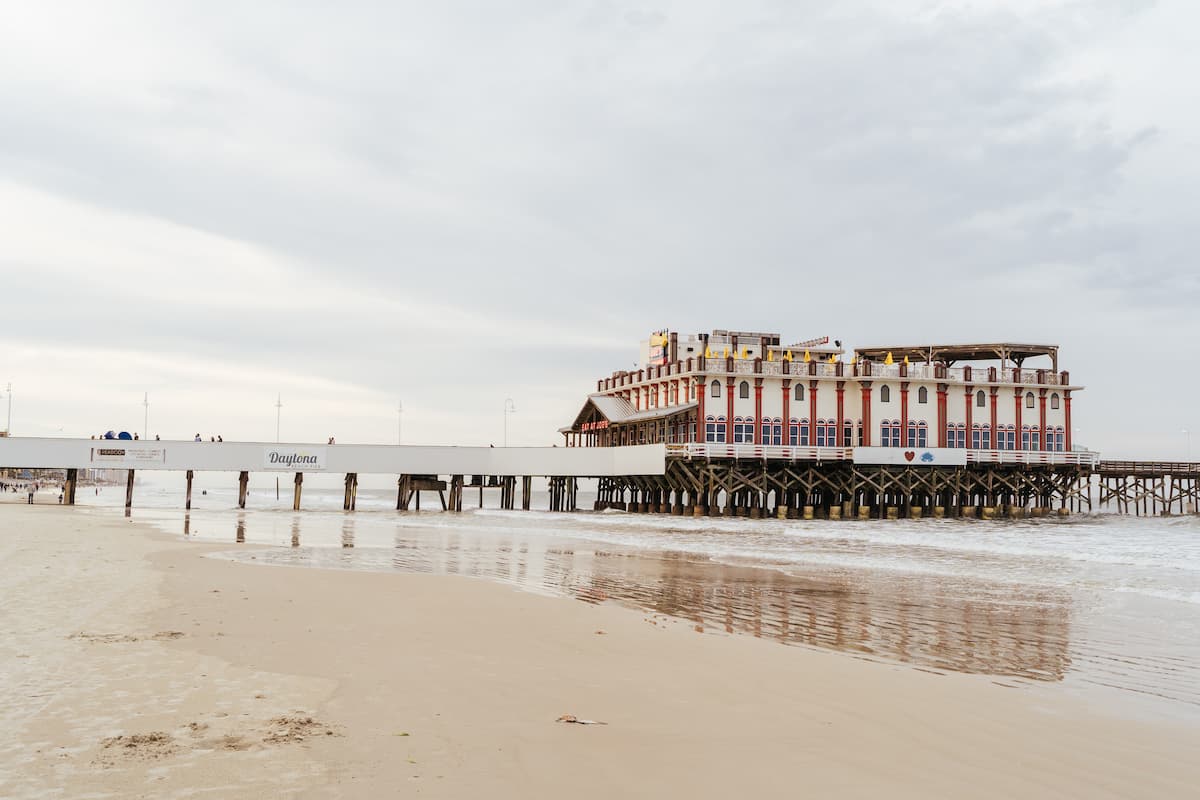 Located on the Atlantic coast of central Florida, Dayton Beach is a well-known spot with a beautiful shoreline and various amenities that cater to different tastes.
March sees Daytona Beach transitioning from the cool winter months to warmer spring temperatures, where average temperatures sit around 73°F (23°C) during the day – but daytime highs have been known to reach 80°F (26°C) or more.
While at Daytona Beach, take advantage of the amenities such as beachside restaurants and cafes, water sports facilities, and shops.
It's also home to the world-famous Daytona International Speedway, with its unique blend of motorsports events and entertainment.
Daytona Beach has an energetic vibe that appeals to a wide range of visitors, whether you're a racing enthusiast, a beach lover, or simply looking for a memorable vacation.
10. Panama City Beach
Panama City Beach is located about 100 miles (160 km) from Tallahassee in the Florida Panhandle.
In March, you can expect Panama City Beach to have pleasant weather, with temperatures typically ranging from mid to upper 70s Fahrenheit (approximately 21-25ºC).
While enjoying your time at Panama City Beach, don't miss out on trying a variety of water sports, indulging in the local cuisine, and shopping at the nearby outlets.
Keep in mind that the beach can get busy, so be prepared for some crowds during your visit.
11. Cocoa Beach
Cocoa Beach, located on Florida's beautiful Space Coast, is known for its great surf, immaculate shoreline, and close proximity to Kennedy Space Center and Port Canaveral.
In March, average daily high temperatures range from 73°F to 77°F (22.8°C to 25°C), making beach days comfortable.
Cocoa Beach has a relaxed and friendly vibe, with surfing spots that welcome both locals and visitors alike.
The best part about Cocoa Beach is that if you're not in the mood for sand and sun, it's only about an hour from Disney World.
12. Pensacola Beach
Pensacola Beach is a stunning spot on Santa Rosa Island, part of Florida's renowned Gulf Coast.
As you explore the area, you'll discover a range of amenities, including enticing restaurants, charming shops, and comfortable lodging options.
During March, you can expect an average temperature of around 72°F (22°C), whether unwinding on the beach, exploring the nearby parks, or indulging in wildlife spotting at the Gulf Breeze Zoo.
Swimming in the area is a favorite activity among visitors, although Gulf waters might be slightly cooler in March.