10 Best All-Inclusive Ski Resorts in Colorado (Updated 2023)
Colorado is a popular skiing destination, and visitors from around the world flock to the mountains annually to experience world-class runs and local hospitality.
While Colorado isn't known for all-inclusive resorts, more than a few offer luxurious accommodations, gourmet meals, and a wide range of daily activities for those who don't ski.
Not every all-inclusive on our list is a ski resort, per se, but most are either on or near a ski hill, and many have packages that include lift tickets and transportation to the nearest mountain.
The 10 best all-inclusive ski resorts in Colorado are:
1. Three Forks Ranch
2. Vista Verde Guest Ranch
3. C Lazy U Ranch
4. Devil's Thumb Ranch Resort & Spa 
5. Drowsy Water Ranch
6. The Hythe
7. Latigo Ranch
8. Tumbling River Ranch
9. Dunton Hot Springs
10. The Broadmoor Ranch at Emerald Valley.
In this article, we'll highlight the top 10 all-inclusive ski resorts in Colorado, including where they are and what they offer.
Key Takeaways
All-inclusive resorts in Colorado offer a convenient way to experience the state's stunning scenery and thrilling skiing.
Resorts typically provide luxurious accommodations, gourmet meals, and a variety of daily activities for guests to enjoy.
Staying at an all-inclusive resort allows visitors to enjoy their vacation fully without worrying about the details.
Top 10 All-Inclusive Ski Resorts in Colorado
1. Three Forks Ranch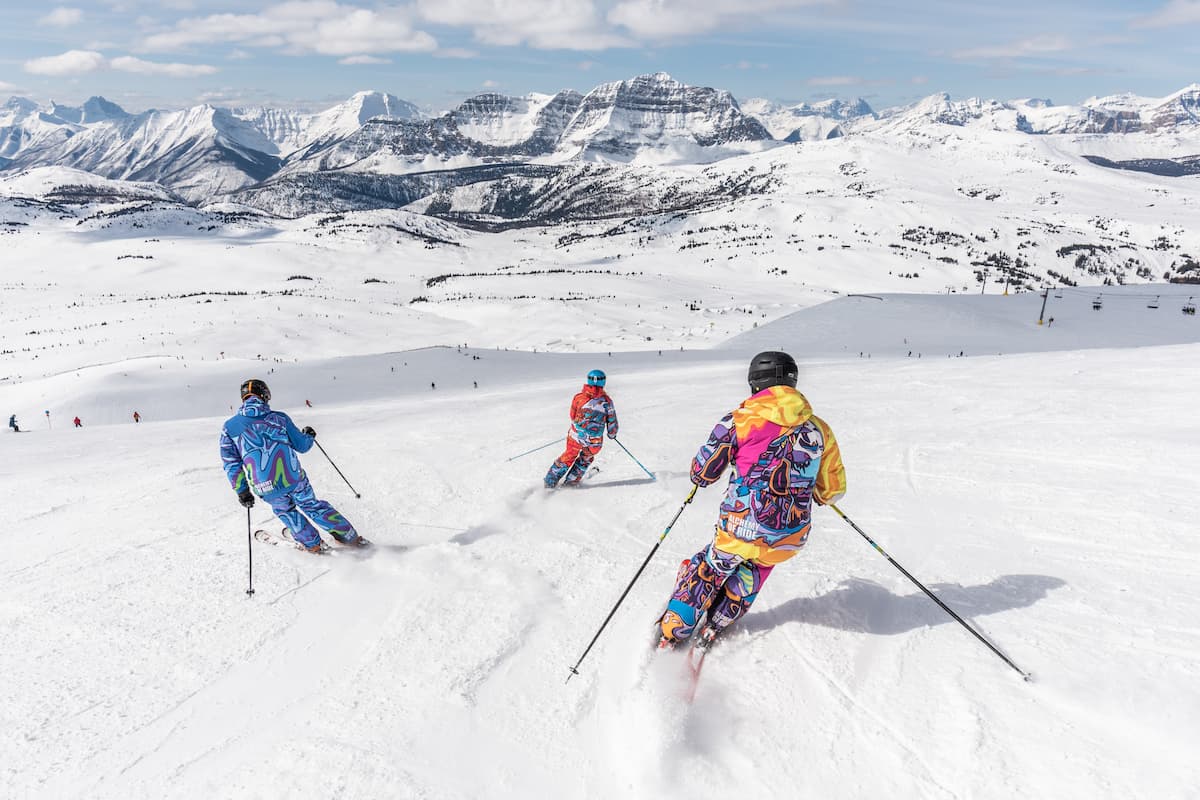 Three Forks Ranch is a luxurious all-inclusive resort on the border of Colorado and Wyoming, 40 miles (64 km) from the charming town of Steamboat Springs.
Offering a perfect blend of lavish comfort and untamed wilderness, it's a popular vacation spot for those seeking an authentic – and private – ski experience with high-end amenities.
The all-inclusive package at Three Forks Ranch covers accommodations, regional airport transfers, all food and beverages, all guided recreation (e.g., skiing/snowboard trips), all spa services, all fitness, wellness, and cooking classes, use of all the facilities on the property, including the hydrotherapy spa, aquatics areas, gym, Himalayan salt room, steam room, locker rooms, and movie theatre.
Additionally, the ranch has recently partnered with The Mayo Clinic to expand its wellness offerings, making it an excellent destination for travelers looking to improve both their mental and physical health.
2. Vista Verde Guest Ranch
Vista Verde Guest Ranch is a high-end dude ranch just north of Steamboat Springs Ski Resort in Colorado.
This unique resort boasts top-notch amenities and a mix of Old West charm, with its all-inclusive rates including accommodation, meals, activities, and access to various facilities.
Guests staying at Vista Verde for a ski or snowboard vacation also don't have to worry about a thing – the ranch arranges everything from transportation to the mountain and packed lunches to ski lessons and equipment rental.
And, for those who prefer Nordic (cross-country) skiing, the ranch itself offers groomed trails on-site.
Staying at Vista Verde guarantees personalized service and an unforgettable experience, blending luxury with outdoor adventure in the heart of Colorado.
3. C Lazy U Ranch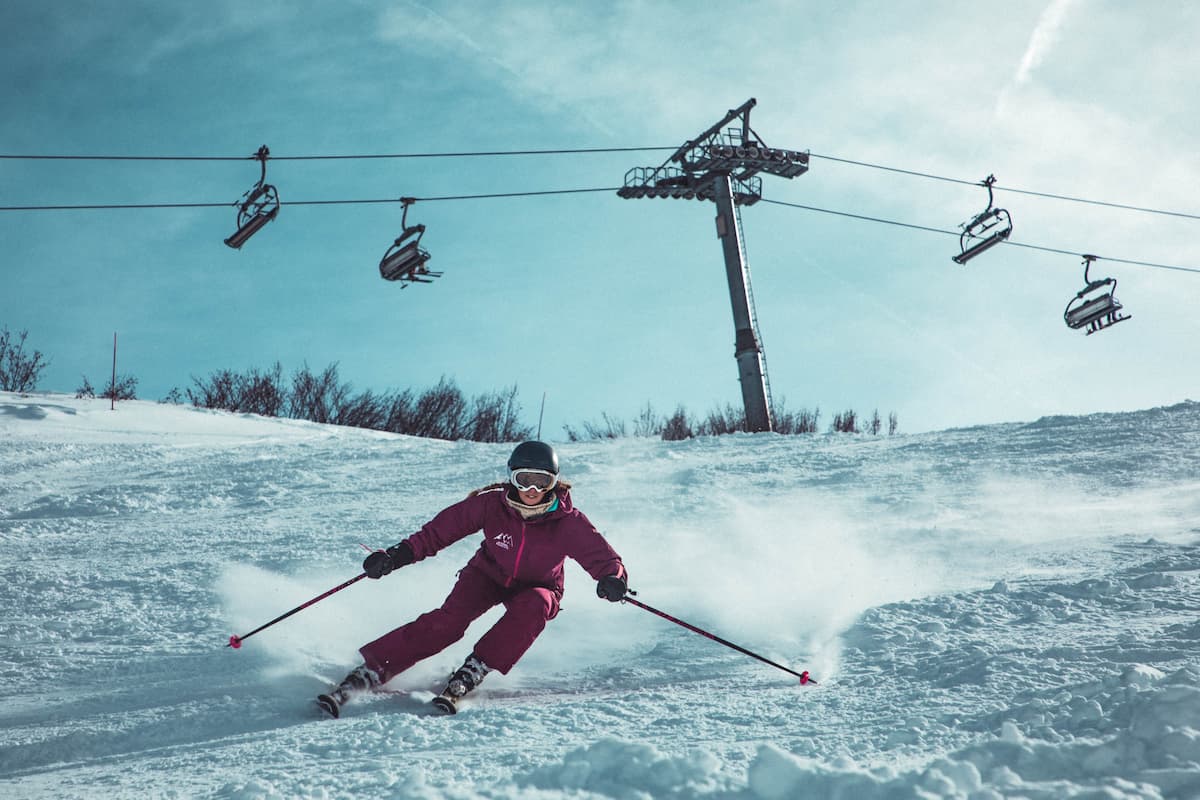 C Lazy U Ranch is an all-inclusive resort in Granby, Colorado, that features 38 guest ranch accommodations, including individual rooms and fully private cabins within walking distance of the Main Lodge.
The ranch offers on-site opportunities for cross-country skiing, including guided tours of the property and ski and stay packages that include complimentary daily shuttles to Ski Granby Ranch and Winter Park Resort.
The concierge at the ranch will also assist guests with alternative transportation, ski guides, equipment rentals, lift tickets, and lessons.
The all-inclusive package at the C Lazy U Ranch includes accommodations, meals, and activities.
Spa services and some off-site activities may have additional fees.
4. Devil's Thumb Ranch Resort and Spa
Conveniently situated 75 miles (120 km) west of Denver in Tabernash, Colorado, Devil's Thumb Ranch Resort and Spa is an eco-friendly resort featuring cozy, upscale accommodations with rustic, elegant designs.
The ranch is just a 15-minute drive from the Winter Park Ski Resort and provides a complimentary shuttle to the ski area.
The Devil's Thumb Ranch Relax and Play Getaway package is the most comprehensive all-inclusive offered and includes accommodations, all meals and snacks, one 50-minute Signature Massage daily, and unlimited mountain activities.
This comprehensive package covers all taxes, service fees, and gratuities; however, guests must make reservations for dining, spa, and activities.
5. Drowsy Water Ranch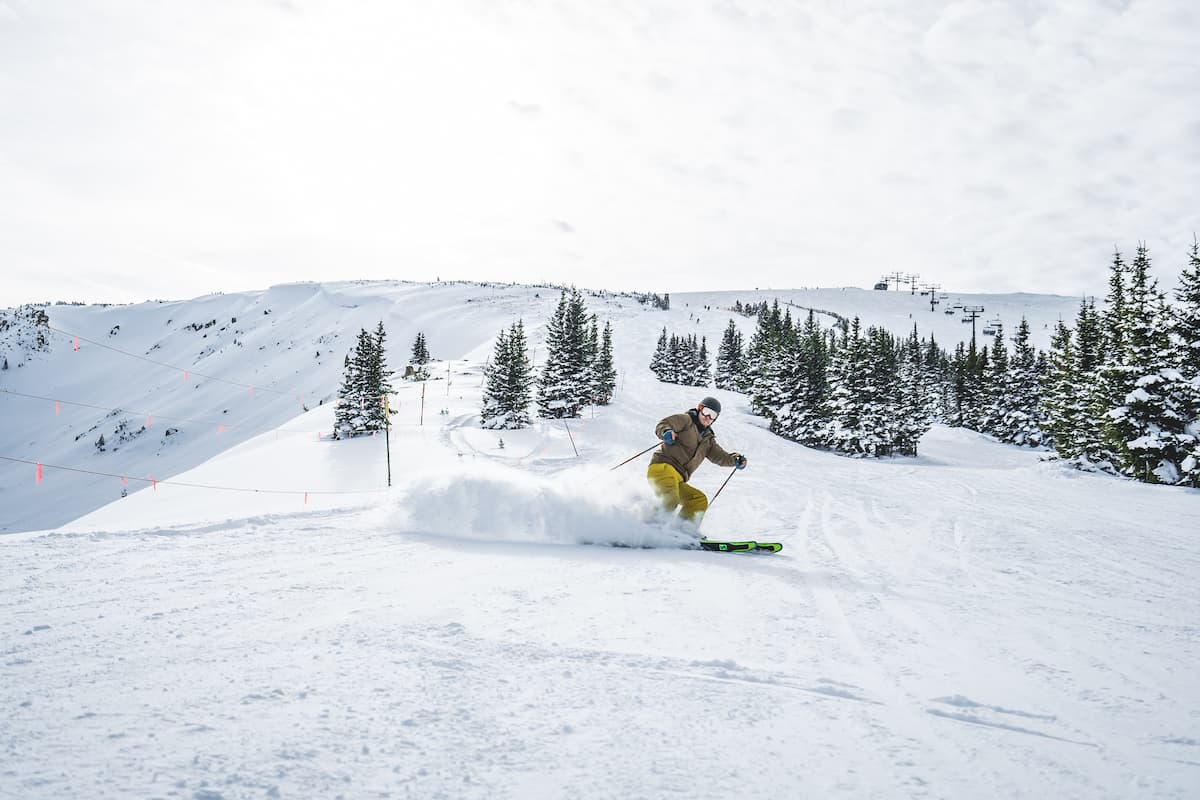 Drowsy Water Ranch in Granby, Colorado, delivers a comfortable and authentic Western experience in a tranquil, private valley.
As an all-inclusive, the ranch provides accommodations in its one, two, three, and four-bedroom cabins or Lodge, home-cooked meals for breakfast, lunch, and dinner, and a variety of activities for guests of all ages.
The Winter Park Ski Resort is approximately 25 miles (40 km) south of the ranch, offering skiers and snowboarders the perfect opportunity to experience Colorado's slopes.
6. The Hythe
The Hythe is an elegant Marriott resort in the heart of Vail, Colorado, offering various amenities, activities, and dining options.
Guests at The Hythe have convenient access to daily skiing at Vail or can choose from a few curated ski and snowboard packages, including backcountry or Heli-skiing.
The resort also offers equipment rentals and ski valets to assist visitors with their gear.
The Hythe isn't exactly all-inclusive, offering the Escape! Dining Package, which includes breakfast and dinner for two people.
However, all resort guests can access the numerous on-site amenities, including the year-round outdoor pool and hot tub, the equipment library, the Après Deck, the Himalayan salt therapy lounge, and the fitness center.
7. Latigo Ranch
The Latigo Ranch can be found in the heart of the Colorado Rocky Mountains, 130 miles (210 km) west of Boulder.
The ranch provides an all-inclusive vacation package featuring comfortable accommodations, fine food, and various activities.
Nordic skiers will appreciate the resort's superb cross-country trails and the option to rent skis, boots, poles, and a pulk to transport children.
For downhill skiers and snowboarders, Latigo Ranch is just one hour from Steamboat Springs Ski Resort.
The ranch doesn't currently offer any mountain ski packages, but they'll be happy to assist guests with any itinerary or logistics planning.
8. Tumbling River Ranch
The Tumbling River Ranch is an all-inclusive resort set in the Colorado Rockies.
Just 1 hour from Breckenridge Ski Resort, this all-inclusive ranch allows easy access to early-season skiing before the property closes for the winter.
The all-inclusive package at Tumbling River includes cozy accommodations with private baths and wood-burning fireplaces, meals and snacks, access to the heated pool and hot tubs, children's programs, evening activities, fitness and wellness programs, live music, vehicle trips, and more.
Just note that Tumbling River is not open year-round, so visitors should contact the resort for an up-to-date operating schedule.
9. Dunton Hot Springs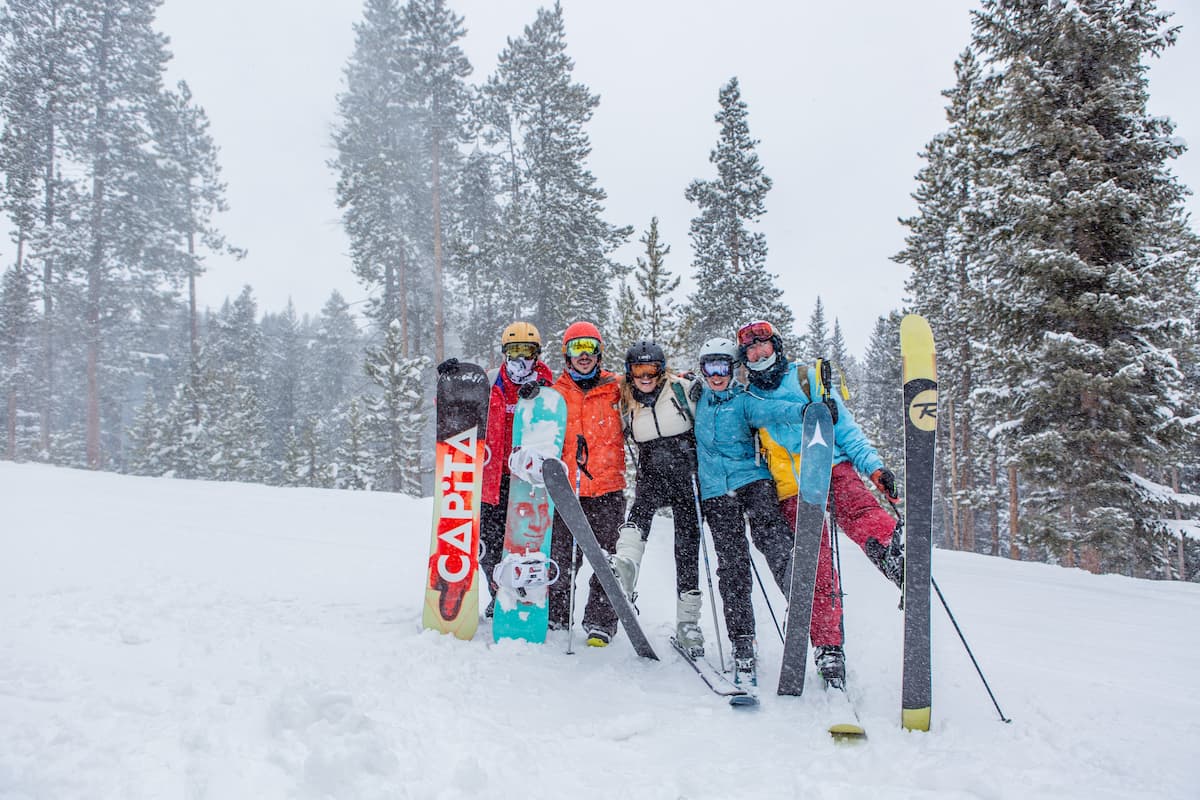 Dunton Hot Springs is a one-of-a-kind all-inclusive resort in Dolores, Colorado, offering private cabin rentals in the scenic San Juan Mountains.
Once an abandoned coal-mining town, Dunton Hot Springs is now a completely resorted, fully operational luxury property.
As an all-inclusive resort, Dunton Hot Springs delivers beautiful accommodations, curated meals, and a wide range of amenities, including a full-service spa, mineral hot springs, fine dining, and various onsite activities.
Cross-country skiers can embark on a Snow Cat to 10,000 ft (3048 m) and head out on a trail created by former Olympic Nordic skier Wendy Wegner.
Downhill skiers and snowboarders can arrange Heli skiing tours or backcountry ski excursions through the resort or just drive the hour northeast to Telluride Ski Resort.
10. The Broadmoor Ranch at Emerald Valley
The Ranch at Emerald Valley in Colorado Springs is nestled within the Pike National Forest, surrounded by over 100,000 acres of stunning wilderness.
The ranch is known for its refined, rustic charm and top-notch service. It offers 13 one-, two-, or three-bedroom cabins or one-bedroom suites.
All-inclusive packages include up-scale lodging, airport transportation, outstanding farm-to-table meals, and a range of activities and amenities, including pools, hot tubs, and fire pits.
Although skiing isn't available on-site, Monarch Mountain and Breckenridge are approximately 2.5 hours away by car.
While it's a bit of a trek to the nearest ski resort, returning to the Ranch at Emerald Valley after a long day of skiing is well worth the trip.