How To Ask A Hotel For A Birthday Surprise?
Celebrating birthdays at hotels is common, and most will help arrange something nice to make the day extra special.
Talk to the front desk if you'd like a birthday surprise for yourself or someone else – you can often book parties in event spaces, or if you want an in-room celebration, most hotels offer complimentary perks and may even have the room decorated!
If you're visiting a hotel during a birthday, you can often ask for any or all of the following:
Special Birthday Bundles
A Room With a View
A Free Room Upgrade
A Special Birthday Menu
Catering
Late Check-Out
Access to Hotel Amenities.
This article explains the common things hotels offer guests to help them celebrate their birthdays.
What Do Hotels Offer For Birthdays?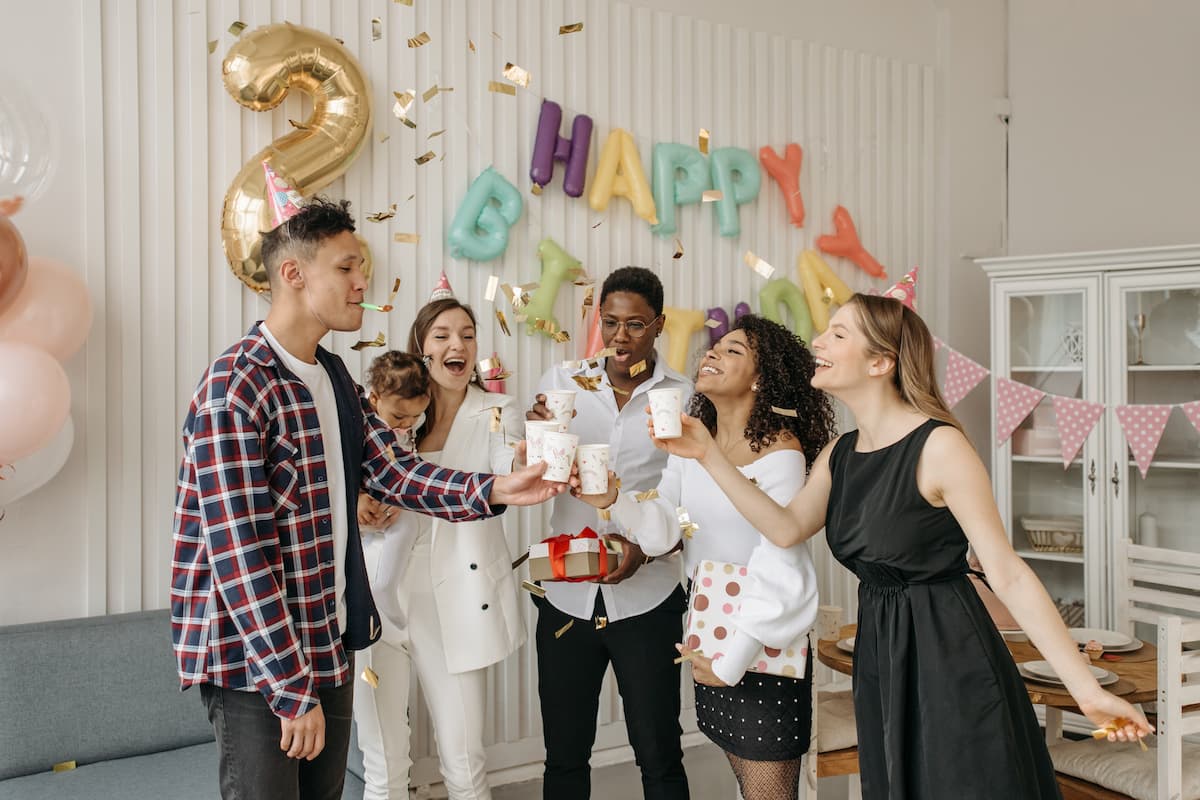 Most hotels have special birthday deals, whether you surprise someone in their room or throw a party in an event space.
Some perks are free, while others (like decorations or catering) can come at an extra cost.
Every property is different, but here's a list of things you can ask for when celebrating a birthday at a hotel.
(Just remember, if the staff goes above and beyond, it's customary to tip them for their service.)
Special Birthday Bundles
Most hotels have special birthday packages that include food, decorations, and discounts for services.
Birthday bundles come with a fee but can actually be quite reasonably priced.
You don't usually have to stay at the hotel to purchase a birthday package, but you may get a discount if you do book rooms.
If you plan a party in one of the event spaces, you can often host it at a location of your choice, like at the pool or in private dining areas.
Additionally, if you aren't interested in the entire birthday bundle, you may be able to select features a la carte.
A Room With a View
If you're staying at the hotel for your birthday, you can ask for a room with a view.
Most hotels will give you the nicest view they can, and best of all – they'll do it for free!
A Free Room Upgrade
Complimentary room upgrades are possible if you book a stay during your birthday month, and they might be included as part of the birthday package.
If they aren't, ask the front desk if they'll upgrade you for your special day – and if you're lucky, they may even give you a deluxe or executive suite.
However, depending on the hotel, you might need to pay for special amenities or features if you've been upgraded to a suite.
A Special Birthday Menu
Special birthday menus always come with the birthday bundle, but they're usually reserved for the guest of honor only.
Occasionally, the hotel provides this perk for free, but it usually comes as a complimentary addition to other paid services.
You can also ask the hotel to organize a special birthday menu (for a fee) if you aren't ordering the complete birthday package.
Catering
Most hotels offer discounted buffet or sit-down catering rates when planning a party for larger groups.
The catering package may also include linens, centerpieces, flowers, or balloons.
Depending on local laws, you may have to use the hotel to cater your meal as outside food may violate health and safety regulations.
In other cases, using the hotel's catering services may just be easier (and less expensive) than arranging your own food.
Late Check-Out
The hotel may grant you late check-out the day after your party, or they may include it in the birthday package.
Hotels don't usually mind giving guests a few extra hours, especially if they don't have an incoming reservation.
If late check-out isn't included in the birthday package, you can always ask for it ahead of time or at the front desk when you check in.
Access to Hotel Amenities
If you're not staying at the hotel for your birthday, you won't have access to most amenities.
If you ask nicely, however, they may permit you to visit certain areas of the hotel, including the spa, sauna, pool area, or fitness center.
The hotel might already include select amenities in your package at no extra cost, but these are usually restricted to the pool and dining areas.
When you make your booking, ask if you can have access to all the hotel amenities.
The reservation team will tell you if you can use them and the times they'll be available.
They may also offer the services for free (or at a discount) as part of the birthday package.
Read Also > 12 Special Requests You Can Ask for at a Hotel
Do Hotels Have Special Rates/Discounts for Birthdays?
More often than not, hotels will give you a special birthday rate on most services.
In addition to complimentary offers like room upgrades and late check-outs, most offer a 20% discount on your stay for your entire birthday month.
Hotels thrive on loyalty, so a successful birthday celebration will likely encourage you to return.
Additionally, if the service is impeccable, any guests attending your party may use the hotel in the future.
The great thing about special occasions is you can receive services you otherwise wouldn't have access to.
If the hotel doesn't include certain amenities in the birthday package, all you have to do is ask.
Can I Throw a Birthday Party in My Hotel Room?
While throwing in-room parties is not usually permitted, it may be fine if your celebration doesn't disturb other guests or cause property damage.
However, if you're planning a huge party, you'll have to book the hotel's event spaces or dining areas, as they're perfect for large public gatherings.
Read Also >> How Late Can You Check Into A Hotel?
Conclusion
Hotels are popular locations for birthday celebrations, and they usually offer special perks and surprises for guests staying for their special days.
When planning a birthday at the hotel, ask the front desk for everything the hotel offers.
If you aren't sure what to ask for, consider any or all of the things on the following list:
Special Birthday Bundles
A Room With a View
A Free Room Upgrade
A Special Birthday Menu
Catering
Late Check-Out
Access to Hotel Amenities.