Can You Bring A YETI On A Plane? (TSA Dos and Don'ts)
Traveling can be exhausting, but staying hydrated is one of the best ways to help avoid fatigue.
Buying beverages in an airport or on a flight can add up quickly, so having a reusable water bottle is a good way to cut costs.
Air passengers can bring an empty water bottle like a YETI through airport security and onboard most flights. Almost all airports have water fountains or bottle refill stations, and some airlines will fill water bottles for free. All drink containers must be empty when going through security, or they may be confiscated.
The following explains how to travel with a YETI, including the rules for flying with liquids and other beverages, such as alcohol.
Can You Take a YETI Through Airport Security?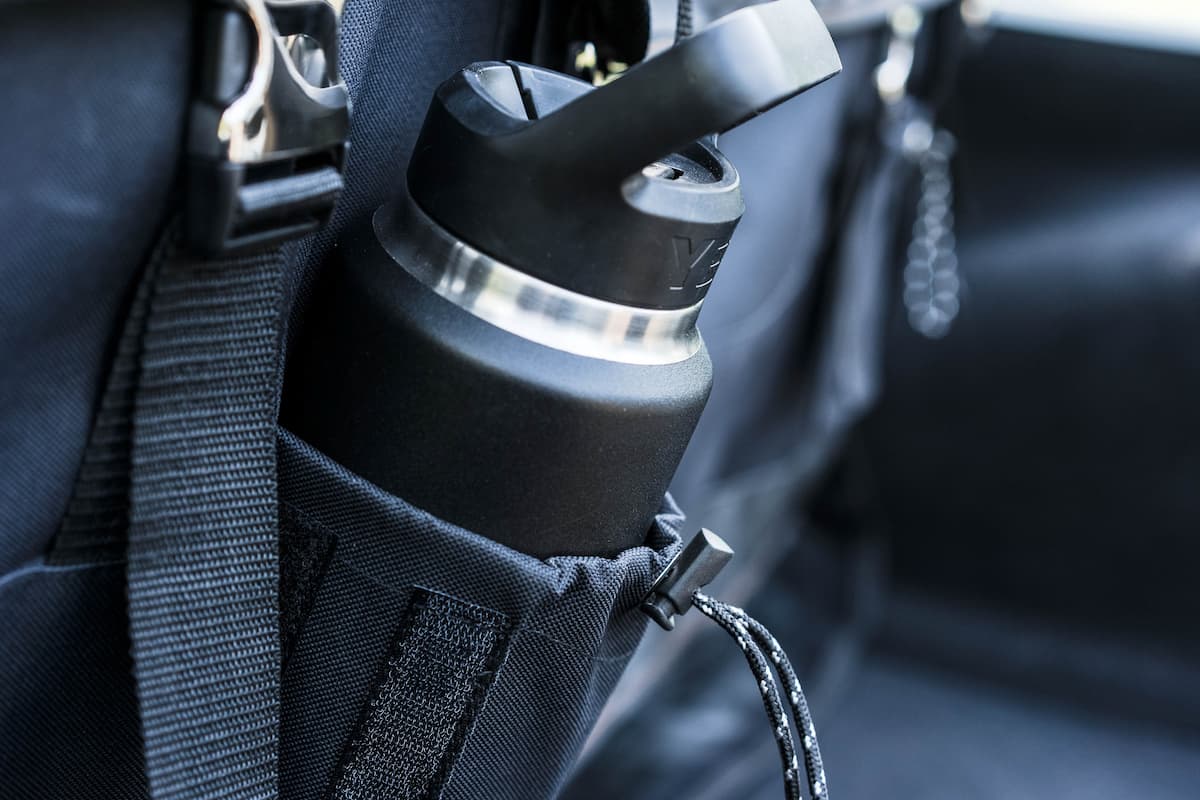 As long as your YETI is empty, bringing it through airport security is fine.
Reusable bottles, tumblers, and mugs are permitted in carry-on luggage, and there are no restrictions on the size or material of these items.
That said, liquid in a reusable beverage container violates the 3-1-1 rule for carry-on luggage, and the bottle could be confiscated at the security checkpoint.
The 3-1-1 rule states that passengers can carry on one clear, plastic, resealable quart-sized (1L) bag of liquids, gels, pastes, aerosols, and creams in containers up to 3.4 ounces (100 mL).
Since the smallest YETI is just under 10 oz (295 mL), ensure yours is clean before sticking it in your hand luggage.
Fortunately, most airports provide water fountains or bottle refill stations, so you can fill your YETI before boarding your flight.
Passengers can also add flavor to their water by adding powdered drink mix – which can be a great pick-me-up, especially during early morning or late-evening flights.
Just ensure all powders are clearly labeled and in packages of less than 12 oz (350 mL).
Can You Take Alcohol Through Airport Security?
Consuming alcohol outside of designated areas is prohibited at most airports.
You can't fill your YETI with your favorite adult beverage and try to sneak it through airport security.
However, travelers over the age of 21 can take alcohol through security checkpoints in unopened containers that conform to the 3-1-1 liquids rule.
For example, mini bottles less than 3.4 ounces (100 mL) can be placed in the quart-sized (1L) bag with the rest of the carry-on liquids.
Any alcoholic beverages brought on flights must be between 24% and 70% ABV (48 to 140 proof).
Most beers and wines have a lower ABV, so they aren't subject to the same rules as hard alcohol – but the airlines might have limits on what's allowed as carry-on.
When flying domestically within the US, travelers can purchase up to 5L (1.3 gallons) of alcohol at retail shops in the airport after clearing airport security.
Passengers entering the United States from abroad can also bring up to 5L (1.3 gallons) purchased at a duty-free shop.
However, if they have connecting flights within the US, these items must be sealed in clear, plastic, airport-approved bags and accompanied by a receipt generated within the previous 48 hours.
Moreover, there are rules about bringing more than 1L of alcohol into the United States.
For up-to-date information on bringing alcoholic beverages into the US, please see the US Customs and Border Protection website.
The other thing to note is that passengers are prohibited from consuming alcoholic beverages not served by the airline crew.
Any bottles of alcohol purchased at the airport must remain unopened for the duration of the flight.
Can You Pack a YETI in Checked Baggage?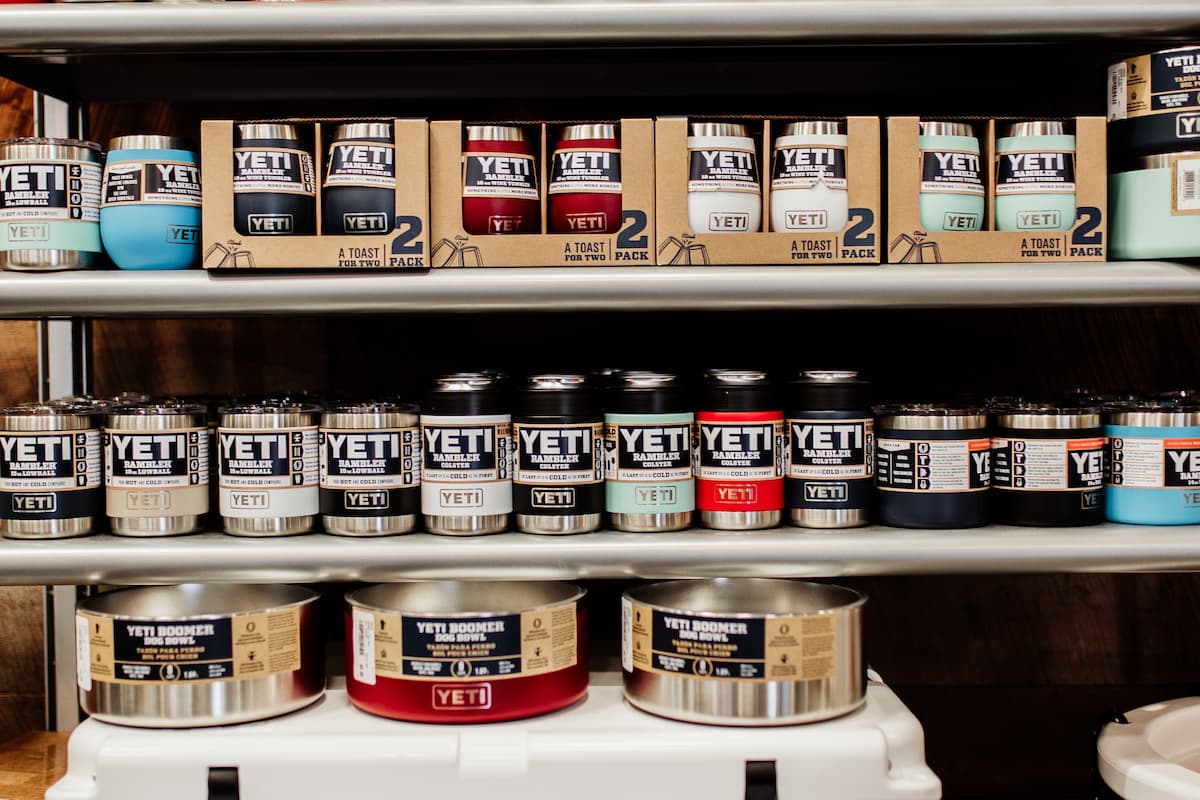 Travelers can most certainly pack their YETI into checked bags.
In checked luggage, containers can be filled with liquid, but changes in air pressure may cause them to leak.
Also, remember that checked luggage often has a size/weight limit.
It's usually better to pack a YETI empty so it doesn't make your bag heavier than necessary.
Can You Carry Alcohol in Checked Luggage?
When traveling within the United States, airline passengers over 21 can carry up to 5L (1.3 gallons) of alcohol between their carry-on and checked luggage.
The alcohol cannot be over 70% ABV (140 proof) and must be in unopened retail packaging.
There is no limit on alcoholic beverages with less than 24% ABV (48 proof) – but bottles of wine are heavy and overweight luggage can be pricey.
Travelers heading overseas must also check the rules at their destination before putting alcohol in their checked bags.
Additionally, ‌airlines may restrict how much alcohol can be transported in checked luggage, so confirm what's allowed before leaving for the airport.
Passengers entering the United States with alcohol in their checked baggage are limited to 1L duty-free.
Amounts above 1L are subject to duties and taxes, and large quantities of alcohol may be inspected and assessed for further fees.
Conclusion
Air travelers can bring a YETI in their carry-on or checked bags.
When bringing a YETI in a carry-on, it must be empty to comply with the 3-1-1 liquids rule.
After passing through security, however, passengers can fill their YETI with water, coffee, or any other non-alcoholic beverage and bring it on the plane.
Travelers can also pack a YETI full of alcohol-free liquids in their checked baggage, but they can leak, so it's not recommended.
There are strict rules about flying with alcohol in carry-on and checked luggage, regardless of the destination.
Passengers should confirm all restrictions before purchasing or packing alcoholic beverages.